D.R. Moon Memorial Library Vision
Since 1901 our library has worked to serve thousands of patrons each year through our resources, programs, and services. Our current building is the original library built over 120 years ago and is the only building in the area listed on the National Register of Historic Places. Our community has agreed that we need a more accessible and updated space to continue to meet our area's learning and resource needs for the next 100 years.
The beautiful space we currently have is unfortunately aging and in desperate need of restoration. This will include replacing the windows, improving insulation, upgrading the electrical to meet new codes, and ensuring ADA accessibility. To address the space needs of our library a complementary addition to the existing library is planned. The addition will feature increased programming and technology spaces, meeting space, comfortable reading and computer areas and relaxed seating as well as plenty of room for special events and programing.


Make a Donation
A business or individual may give donations to the library in a variety of ways including cash or check, online (credit card), stocks, bonds, real estate, other assets, bequests, IRAs, and more through our accounts with the Community Foundation of Chippewa County.
Spread the Word
If you are unable to contribute financially, help us spread the word. Follow us on Facebook, share information on our Goodsearch and ways to donate  the Community Foundation of Chippewa County and tell your friends and family about our project.
Word of mouth costs nothing, but may inspire donations!
Get Involved
We're always looking for more people to join our team! Become a member of our Friends of the Library group or join our Capital Campaign committee to help move the building project forward.
Goodsearch
On Goodsearch, choose D.R. Moon Memorial Library as your designated charity when you search and shop online.
The library will receive a small donation from your searches at no extra cost to you!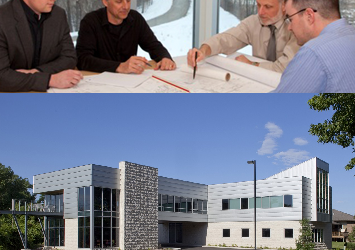 We're so excited to share that the library board has chosen an architect to partner with for the design phase of the building project. River Architects, based out of La Crosse, WI, emerged from our August and September interview and selection process as the perfect...
read more
Frequently Asked Questions
Q. How do I support the library building project?
We are fortunate to have a generous community and a supportive City Council! The best way to support the library right now is to join our Friends group or make a donation to our building fund. We have a variety of ways to donate online, by mail, or by stopping in to the library.
Other ways to support the project:
Share library stories and interest in the project.
Provide media coverage of support for the project.
Attend City Council meetings to express support for the library.
If you are interested in supporting in other ways, stop by and talk to us!
Q. Why doesn't the current building work?
The current library building, while beautiful and well-made, is over 120 years old. It is not energy efficient or handicapped-accessible, and was not built with the current needs of the library and community in mind. Besides the structural problems, the one problem you may notice repeated in this list is the significant space limitations: we have a challenging lack of space for the community, for staff, for programming, and for the collection.
The first floor of the building is not wheelchair accessible, and the entire building does not meet ADA standards.
The lower entrance is unsafe in bad weather.
Main entrance door is difficult to open and at odds with the floor.
Hazardous substances including asbestos and lead paint have been found in certain areas of the building. It is not immediately dangerous to staff or public health but does need to be addressed during the project.
Limited accessible shelving, books are too high and too low for patrons to access and spacing between shelving units do not fulfill the minimum ADA requirements.
No designated comfortable seating and reading spaces for adults, teens, and children.
No designated program space.
Limited collection space.
Cracks in the walls on the first floor, water damage.
Windows are cracked in places and the wood around them is rotted.
Limited community engagement space.
No private meeting rooms or study spaces.
No space to hold larger meetings, community forums, and larger programs/events.
No designated quiet space.
Limited or difficult to access storage space.
Circulation area not accessible for patrons in wheelchairs or to children.
Limited designated staff work space.
Not enough space for Library of Things/makerspace collection.
No moveable shelving.
Q. What would the project cost? What funding does the library have now compared to how much it would need?
The library's building project is actually two projects rolled into one: restoration of the current, 120+ year old space, and new construction of an addition to expand library space.
Thanks to the generosity of Marie and Walter Wartolec, the lot to the west of the library was purchased and donated to the library for the purpose of building an addition.
The library is working with River Architects to determine an estimated cost to address the current building's problems and build an addition.
The library needs City of Stanley's support to apply for the Community Building Block Grant.
The library has very supportive patrons and an interested community who have already said they would support the campaign.
Q. Is the library collecting community suggestions for the space?
The library conducted a community survey recently to gather community thoughts and ideas regarding the future of the library. The survey response had two evident main themes. First, respondents expressed a need for more space and funding for the library. Second, there was a strong passion to preserve and protect the historic nature of the building as a landmark of the Stanley area.
The library and River Architects will host community listening sessions once plans are developed.
The library will provide many outlets for community members to provide suggestions for the space.
Community members are welcome to express what isn't working with the current library (stanleypl@stanleylibrary.org).
Q. What would the library be able to offer that the current space cannot accommodate? 
Increased collection space, including space for a Library of Things.
Provide community meeting and event space for free.
Provide resources and library space accessible to all (ADA standards).
A designated, safe teen space.
Quiet reading spaces for adults.
Host larger events without obstructing access to the library's collection
Provide more study space and quiet space for community members to work from the library.
Provide more space for community organizations to share their resources.
Provide a designated makerspace, offering opportunities to the community that they wouldn't have otherwise.
More storage for programs and events.
Move shelving to accommodate various programs
Provide more comfortable and accessible seating options.
Provide staff with designated workspace and break room allowing for a more efficient workflow
Q. Why do we need a bigger library when we have the internet?
The internet is great! We provide free internet at the library year-round whether we are closed or open, and we offer WiFi hotspots for checkout free of charge! However, the internet does not provide a safe, physical space for community life and engagement. Additionally, our rural area has unreliable internet and limited availability; many households do not have access to fast or affordable internet. Besides providing access to the internet at our location, there are many tangible things the library offers, including:
Opportunities to meet others, learn new things, and engage in Stanley community life.
Space to study, take tests, conduct meetings, apply for jobs and certifications, host events, play, and work.
Fast, free WiFi which can be accessed outside of the building as well as WiFi hotspots patrons can check out to bring the internet home with them.
Space which often serves as a much-needed respite from Wisconsin weather as a free-to-use place that is warm in the winter and cool in the summer.
Physical materials including books, movies, and magazines, which still account for the great majority of library checkouts.
Tech support to help community members maneuver and adapt through constant tech challenges and changes.
A place for community members to connect safely online.
A one of a kind space in our community where people of all ages are engaged.
Affordable, accessible printing, scanning, faxing, and tech support.